phenox as Silver Sponsor of LINNC 2017
10.07.2017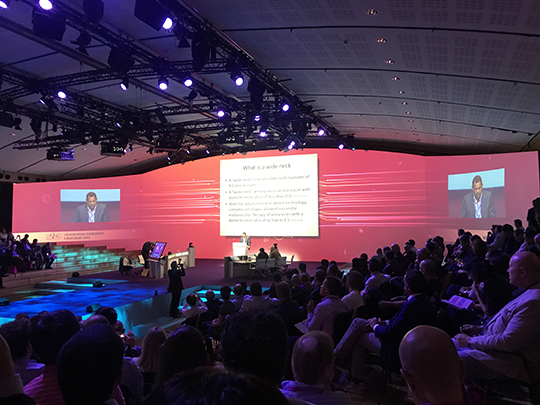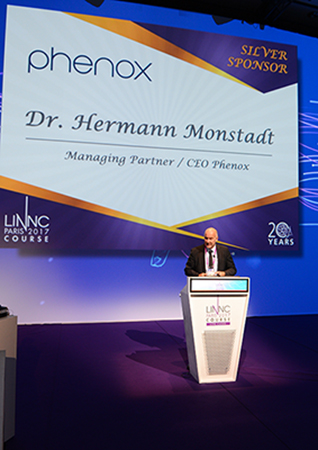 On June 13-15, the 20th "Live International Neuroradiology and Neurosurgery Course" took place. Specialists of neuroradiology met at the Carrousel du Louvre in Paris, to discuss live cases which were presented from all over the world. phenox has sponsored the LINNC for years. This year was the first time phenox was a silver sponsor of the meeting and was present with a booth, a training area as well as its own symposium.
The discussion on treatment of bifurcation aneurysms was titled "How to Decide? Bifurcation Aneurysm Treatment Options", and moderated by Dr. Saleh Lamin from Birmingham, Great Britain. Further speakers were Alessandra Biondi from Besançon, France and Pedro Lylyk from Buenos Aires, Argentina.
In the symposium a new product – pCONUS2 – was introduced. Being a further development of the pCONUS, it features a crown that allows a greater movement in all directions and a reduced shaft length to minimize metal to artery surface coverage.
At the end of the congress, Dr.-Ing. Hermann Monstadt, Managing Partner and founder of phenox, received the sponsoring prize for the company's engagement and support of the LINNC 2017. "It is an honor to be supporting the LINNC 2017 as Silver Sponsor on their 20th anniversary. Our company is always working on strengthening and enlarging its global presence, and therefore it is important for us to support LINNC as an internationally respected and successful congress." said Dr.-Ing. Hermann Monstadt.
___________________________________________________________________________________________________________
Pictures:
1. Dr. Saleh Lamin speaking at the phenox Symposium at LINNC 2017.
2. Dr.-Ing. Hermann Monstadt at the award ceremony at LINNC 2017.