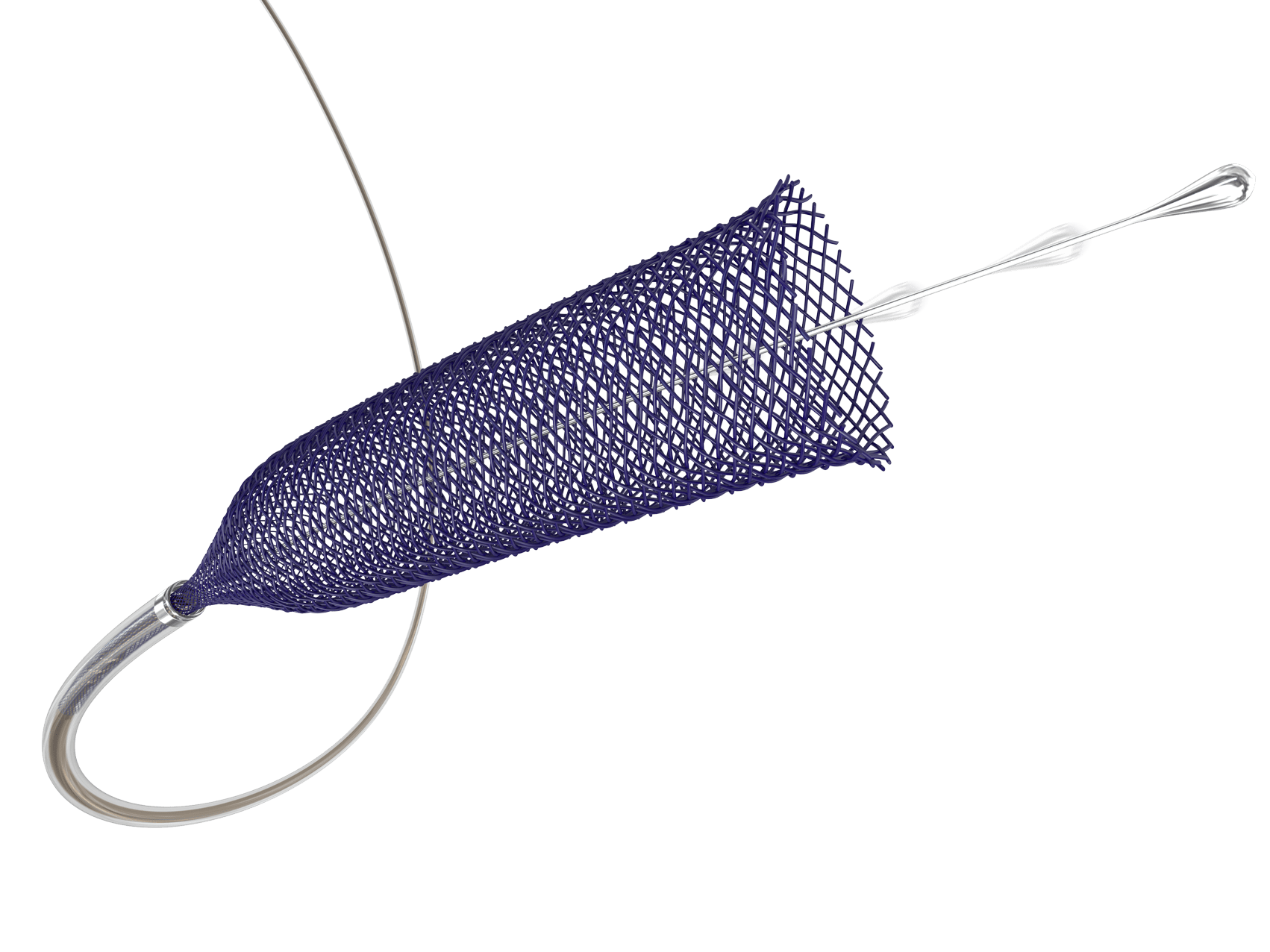 p64 MW Flow Modulation Device with HPC Coating technology for treatment of intracranial aneurysms
---
phenox GmbH launches p64 MW Flow Modulation Device with HPC coating technology for treatment of intracranial aneurysms
phenox GmbH, a pioneer of innovative technologies for neurovascular diseases, has announced the European launch of the new p64 MW Flow Modulation Device. The device received CE mark in January 2020 and is available with the proprietary HPC surface modification, a new technology which could revolutionize patient care in vascular intervention.
The p64 MW Flow Modulation device, a next-generation stent-like device developed by phenox, is implanted across the neck of a cerebral aneurysm, and is intended to divert blood flow away from the aneurysm. Over the course of several months, the diseased vessel is then reconstructed, permanently occluding the aneurysm from blood flow. In addition to the novel HPC coating, the new p64 MW device includes new design features which improve deliverability, including a moveable wire and drawn filled tube construction for complete visibility under fluoroscopy. The p64 MW is also 0.021" microcatheter compatible, making it the lowest profile 64-wire flow diverter available today.
All p64 MW implants are available as a bare version as well as an HPC-coated version that provides additional safety in patients by mimicking the intact vessel wall. "HPC significantly reduces the thrombogenicity of our devices, by imitating the natural vessel wall without altering in vivo tissue response." says Dr.-Ing. Hermann Monstadt, managing partner and founder of phenox. "With the recent introduction of our p64 MW HPC as well as the p48 MW HPC and pCONUS HPC Bifurcation Aneurysm Implant we achieved to implement this technology on a full range of neurovascular implants for long-term use." Surface modification of stents with HPC may also enable mono-antiplatelet therapy (MAPT) in patients for whom DAPT (double-antiplatelet therapy) is unsuitable (as shown in a recent case study [1]).
The development of HPC and its implementation on the p64 MW Flow Diverter system is a significant step toward improved patient care in vascular intervention in the up to 30% of patients in whom DAPT is ineffective or contraindicated. Although DAPT remains the standard of care for vascular implant patients, the reduced thrombogenicity with HPC enables device implantation under MAPT if there is no reasonable alternative therapy. This is justified in exceptional cases under guidance, and in conditions of intensive monitoring and response testing.
About phenox GmbH Since its founding in 2005, phenox has been dedicated to developing innovative, breakthrough and clinically proven technologies and solutions for the treatment of neurovascular diseases. phenox's products are used by endovascular specialists to treat ischemic and haemorrhagic stroke. The company offers a growing portfolio of innovative treatment options, including the primary interventional technologies used today. phenox is a privately held company financed with private funds and by NRW BANK, Venture Fond GmbH & Co.KG, together with SHS Technologiefonds GmbH & Co.KG. More information about the company and its products can be found at www.phenox.net.
phenox and its products are trademarks of phenox GmbH, registered in Germany and other countries. All other trademarks and trade names referred to in this press release are the property of their respective owners.
Sources:
[1] Colgan F, Aguilar Pérez M, Hellstern V, Reinhard M, Krämer S, Bäzner H, Ganslandt O, Henkes H. Vertebral artery aneurysm: ruptured dissecting aneurysm, implantation of telescoping p48HPC flow diverter stents under antiaggregation with ASA only. _Springer Nature Switzerland AG 2019. H. Henkes et al. (eds.), The Aneurysm Casebook, https://doi.org/10.1007/978-3-319-70267-4_80-1