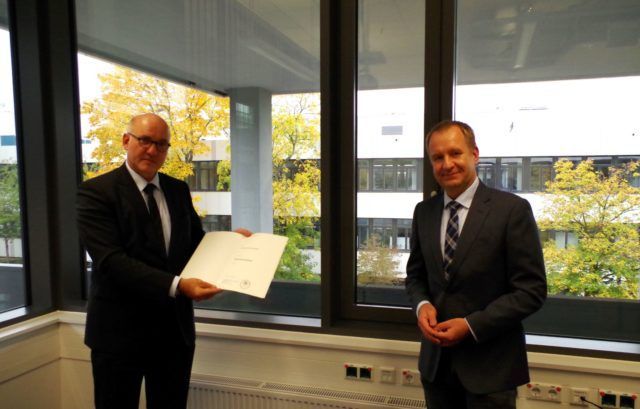 Award of the certificate of appointment as honorary professor: Dr.-Ing. Hermann Monstadt (left) at the ceremony by the Dean of the Faculty of Mechanical Engineering at the Ruhr-University Bochum, Prof. Dr.-Ing. Marcus Petermann
---
Ruhr-University Bochum awards Honorary Professorship to Dr.-Ing. Hermann Monstadt
On 20.10.2020, the Faculty of Mechanical Engineering awarded Dr.-Ing. Hermann Monstadt the certificate of appointment as Honorary Professor by the Dean Prof. Dr.-Ing. Marcus Petermann, during a small ceremony. The award honours Hermann Monstadt for his many years of commitment as a lecturer for the subject "Materials of Biomedical Engineering and Bionic Materials Research" at the RUB and at the same time his merits for the development of medical technologies.
Dr.-Ing. Hermann Monstadt studied mechanical engineering at the RUB in 1981 and graduated in 1987. Afterwards he worked as a research assistant at the Institute for Materials from 1987 to 1992 and received his PhD in 1992 under the lead of Prof. Dr.-Ing. Erhard Hornbogen. From 1992 onwards, Mr Monstadt worked in a research centre for medical technology before founding two medical technology companies in 1999. After their sale, he also spent three years as Vice President for a US medical technology company.
In 2005 he founded phenox GmbH, a company that is now represented worldwide with a total of three locations and more than 270 employees. 10 years later in 2015, he founded femtos GmbH, also located in Bochum, a start-up company in the field of medical and laser technology.
Throughout his professional career, he has rendered outstanding services to the development of neurovascular medical devices and has been significantly involved in the development of a total of approximately 400 patents and patent applications.
In addition to lecturing at the university, Dr.-Ing. Monstadt would like to contribute even more of his ideas, which have also led to successful funding project applications with the RUB, and to the cooperation with the ZGH (Centre for Interface-Dominated High Performance Materials) of the Institute for Materials. He sees important new growth markets for the medical and materials technology in the field of biofunctional surfaces of implants.