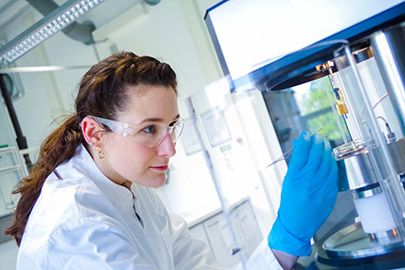 Mechanical engineer Catrin Bannewitz working on the implant. Photo: phenox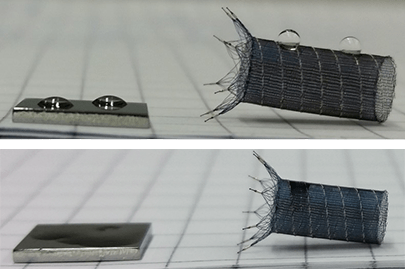 The Images Show a metal plate and an implant of phenox before and after coating. After being coated the surface is hydrophilic. The water Drops are no longer "repelled" by the material. Photo: phenox
---
phenox GmbH wins project and receives extensive funding
The "AntiThromb" project is announced to be the winner of the KMU-NetC competition of the Federal Ministry of Education and Researsch and therefore receives an enormous funding out of federal resources. The goal of the phenox project is to develop a path-breaking coating, which imitates the natural vessel wall, to be used on implants for the treatment of cerebral aneurysms. The use of such a coating it would make it possible to reduce lifelong medication which still is the current standard.

Such a medication is necessary to prevent the formation of a thrombus caused by the use of implants in the cerebral artery and therefore presents the standardized procedure. "For patients where medications do not take effect or are not favorable for other clinical reasons, coated implants could be a promising alternative." says phenox CEO and managing partner Dr.-Ing. Hermann Monstadt. The challenges of developing such a technology consist in the processing of innovative combinations of raw material, the specialized coating technology as well as the production of the filigree implant structures. Through surface coating the implant is made almost "invisible" to the human immune system to prevent any kind of thromboembolic reactions.

The overall volume of the "AntiThromb" funding project comprises of 2.1 million Euro and is planned to be ongoing for 24 months. Apart of phenox GmbH, being in the production of medical products for the treatment of neurovascular strokes for more than 10 years, other Bochum located companies take part as well. Those are femtos GmbH, a start-up company specialized on miniaturized laser polishing procedure, the department for engineering of Ruhr-University Bochum, Knappschaftschaftskrankenhaus Bochum Hospital as well as the Leibniz Institute of Analytical Sciences –ISAS – e.V. Dortmund and OxProtext GmbH located in Münster. The project is coordinated by NanoMikroWerkstoffPhotonik.NRW Cluster.
The support measure ""KMU-NetC" of the 10-point-programm "priority for the middle class" the Federal Ministry for Education and Science supports small and medium sized companies in regional networks and clusters. These companies are especially challenged by continuously renewing their processes, products, services and business models in terms of opening up new market potentials. A helpful factor is the association with other companies, universities or research institutes, who have already been successful at developing similar innovation strategies. Experiences and competences are being shared which alleviates and accelerates innovation in the mid-sized sector.