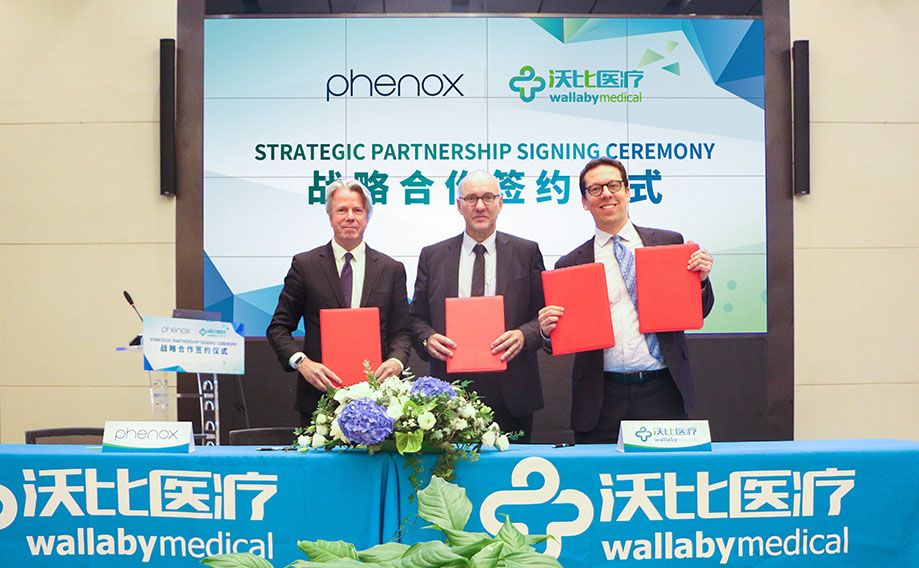 Picture: From left to right: James Lago (CEO phenox USA), Dr.-Ing. Hermann Monstadt (Managing Partner phenox group) and Michael Alper (CEO Wallaby Medical) signing the contract
---
Ceremonial contract signing in Shanghai: phenox and Wallaby Medical seal strategic sales cooperation
On Dec, 9th, representatives of the two contract partners phenox and Wallaby Medical met in Shanghai to finalize a strategic partnership. The cooperation focuses on the sale of Wallaby Medical's Avenir Embolic Coil System for the treatment of brain aneurysms. The system is approved in the CE and FDA markets and is already marketed by phenox in the USA.
Dr.-Ing. Hermann Monstadt (Managing Partner of phenox group) and James Lago (CEO phenox USA) as the representatives of phenox and Michael Alper (CEO Wallaby Medical) as the representative of the American-Chinese Wallaby Medical Group were present. Furthermore, Mr. Wang Ji (Director of the Shanghai Intermediate Medical Zone Group), Mr. Ruilin Zhao, of CD Capital, a Wallaby investor and media representatives were present too.
phenox develops and produces medical devices for the treatment of acute ischemic and hemorrhagic strokes and markets them globally. "The Avenir Coil System is a complementary extension of our product portfolio," says Managing Director Dr.-Ing. Hermann Monstadt. "After the successful initial sales launch in the US, we are aiming to expand the market launch into other established markets, such as the EU."
"Additionally, the Chinese government has made significant investments in healthcare and hospital infrastructure which has led to China becoming the largest market for neurovascular medical devices." The agreement signed in Shanghai therefore contains an option for the distribution of phenox's products by Wallaby Medical in China.