pRESET Thrombectomy Device
The phenox pRESET product line with its innovative proximal closed "ring" design and the helically shaped slit facilitates the safe and effective treatment of ischemic stroke. The closed "ring" design ensures a stable opening, reduces tapering when withdrawn and provides optimized distribution of radial force.
pRESET 4-20 and 6-30 for large thrombus load in carotid "T" and proximal MCA occlusions
pRESET LITE 4-20 and 3-20 for treatment of distal MCA occlusions
Proven safety and efficacy with excellent long-term outcome
Unique proximal "ring" design and helical slit provide balanced radial force distribution
Close apposition to the vessel wall during the entire retrieval process
When Time is Critical... Choose from the broadest range of devices for acute ischemic stroke.

Tapering
In General:
Tapering of proximal device end due to instrument elongation
when retrieving the thrombus
pRESET:
Less tapering results from a stable proximal opening
due to a closed "ring"- design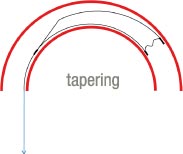 Less tapering results from…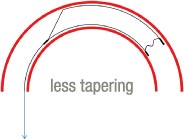 ...a stable proximal opening due to a closed "ring"- design