phenox project wins lead market competition
11.08.2015
The project "FilaMem" is the winner of the lead market competition "NeueWerkstoffe.NRW" (New Materials North Rhine-Westphalia) and has therefore been nominated by the state government for a huge sponsorship combining state and EU funding. The development of biofunctional hybrid membranes for long-term implant materials is supposed to be realized in this project. In addition to phenox, the company femtos (located in Bochum as well), PS Materials (based in Aachen) and the medical faculty of RWTH Aachen University participate in the project's implementation.

The aim of "FilaMem" is to develop new stents for the treatment of strokes. In order to be able to treat so-called bifurcation aneurysms – i.e. aneurysms which form at the branch between arteries in the brain – more efficiently in the future, a biofunctional, fiber-based membrane is to stop the blood flow into the aneurysm and to encourage the formation of a new cell layer. The challenges that accompany the development of such an interconnected system lie in the processing of the innovative combination of materials, the production of the membrane and the assembly of delicate stent structures.

By offering the lead market competition, the state government wants to support companies and research institutes regarding their development of innovations. The competition thus aims at companies and research institutes that produce new materials or further develop traditional materials. For the realization of all 12 winner projects from the first call of the competition the state government provides around 19 million euros. Financing is provided by the European Regional Development Fund (ERDF) and state funding.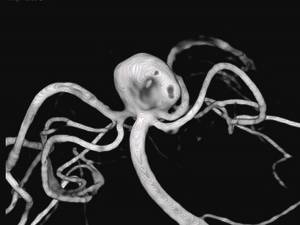 Angiogram of bifurcation aneurysm.
Image: Braunschweig Hospital