Member of European Parliament Dennis Radtke visits phenox GmbH
19.03.2018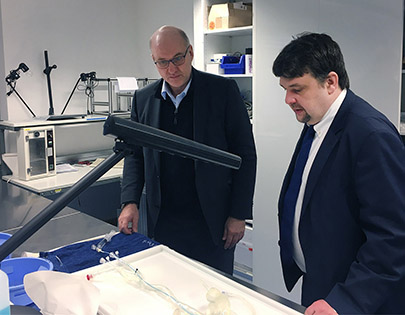 The CDU deputy and member of the European Parliament Dennis Radtke visited phenox GmbH at its headquarter in Bochum on the 12th of February, 2018. The politician, who is originally from the Ruhr area, came to observe the great challenges which medical technology companies such as phenox GmbH located in Bochum must face today. Especially for medium-sized companies, the new EU-Medical-Device-Regulation implies an increased effort in documentation and enlarged approval times for highly innovative products.
The new requirements for the medical technology sector result from the European Medical-Device – (MDR) and IVD-Regulation, which came into effect on 5th of May, 2017. The new regulation is to be implemented by 26th of May, 2020 and manufacturers are already working hard to prepare for the new directives. The Bundesverband Medizintechnologie e.V. mentions critically: "From our point of view, the time window for the transition period is very tight taking into account the numerous changes in requirements for the notified bodies, the clinical evaluation of medical products as well as additional reporting requirements and the new EUDAMED-/UDI-Database."[1] Another consequence of the new regulations are much higher requirements in the preparation of clinical data, for example in clinical evaluation, and the phased introduction of a UDI (Unique Device Identification) marking.
"Patient safety has always been our top priority, which is the reason we have already been increasing our quality management department immensely throughout recent years. In our opinion, the new regulations coming from Brussels exceed by far the bearable amount of reporting, additionally causing big financial efforts. German companies like us are currently facing an increasing effort of bureaucracy which puts Germany as a business location into danger", mentions phenox CEO Dr.-Ing. Hermann Monstadt during the conversation with Mr. Radtke on a tour through the company's headquarter in Bochum. Eventually, he assessed the visit of the European Parliamentarian as being a positive signal for the future.
Photo: CEO Dr-Ing. Hermann Monstadt demonstrates a test procedure that is used in the development of medical devices of phenox to European Parliamentarian Dennis Radtke.
[1] https://www.bvmed.de/de/bvmed/presse/pressemeldungen/eu-medizinprodukte-verordnung-mdr-im-eu-amtsblatt-veroeffentlicht-inkrafttreten-am-25.-mai-2017