Registration for phenox LATAM Webinar – Early clinical experience with HPC on intracranial implants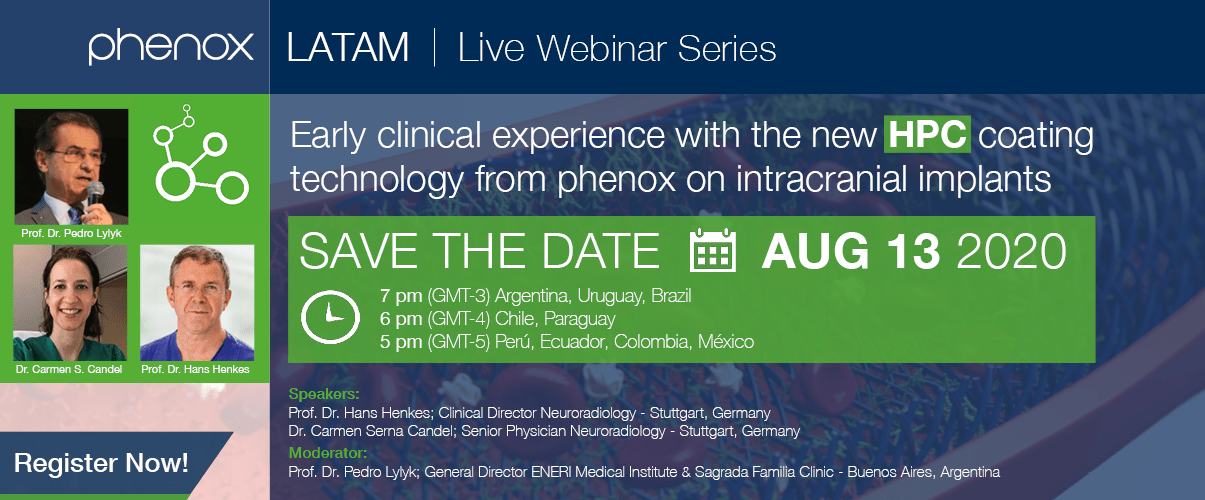 WHAT?
We are happy to announce that we organized a webinar about the experience of the HPC – Hydrophilic Polymer Coating – Technology!
HPC prevents triggering of the clotting cascade and thus reduces the risk of thrombus formation on phenox neurovascular implants. Our speakers Prof. Dr. Hans Henkes (Clinical Director Neuroradiology – Stuttgart, Germany) and Dr. Carmen Serna Candel (Senior Physician Neuroradiology – Stuttgart, Germany) will share their experience on the use of HPC coated flow diversion devices.
The webinar will be moderated by Prof. Dr. Pedro Lylyk, General Director of the ENERI Medical Institute and Sagrada Familia Clinic in Buenos Aires, Argentina.
WHEN?
August 13th 2020
7 pm (GMT-3) Argentina, Uruguay, Brazil
6 pm (GMT-4) Chile, Paraguay
5 pm (GMT-5) Perú, Ecuador, Colombia, México
WHERE?
Virtual Event on GoToWebinar
Once you have registered in the form below, we will send you the link for our webinar.